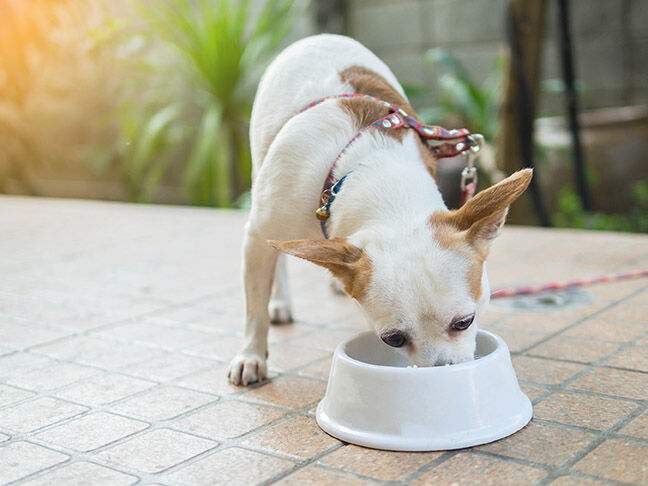 "Grain-free" has become one of the key phrases many pet parents search for on food and treat labels. While consumer concerns have undoubtedly created challenges in this category over the past few years, retailers and manufacturers who aim to offer a well-rounded assortment are still seeing growth.
Heather Acuff, Ph.D., director of research & development at Nulo, acknowledges discourse that hasn't benefited the category, citing widespread concerns that grain-free diets could be linked to dilated cardiomyopathy in dogs. However, she says Nulo's grain-free product sales have consistently increased quarter to quarter, both in the complete and balanced and toppers categories.
"Despite the challenges brought about by DCM-related concerns and the COVID-19 pandemic, market data supports that grain-free is a resilient and substantial category – accounting for about 40 percent of U.S. pet food and treats," Acuff says. 
"Retailers who have not considered grain-free foods as part of their assortment are leaving a lot on the table, because this attribute is strongly associated with premium foods and an important part of a healthy diet."
According to Jon Wooner, pet products director at North Coast Naturals, it's only fair of a retailer to offer consumers a variety of different products including both grain-free and with grains to ensure that pet parents with different needs and preferences can find what they need.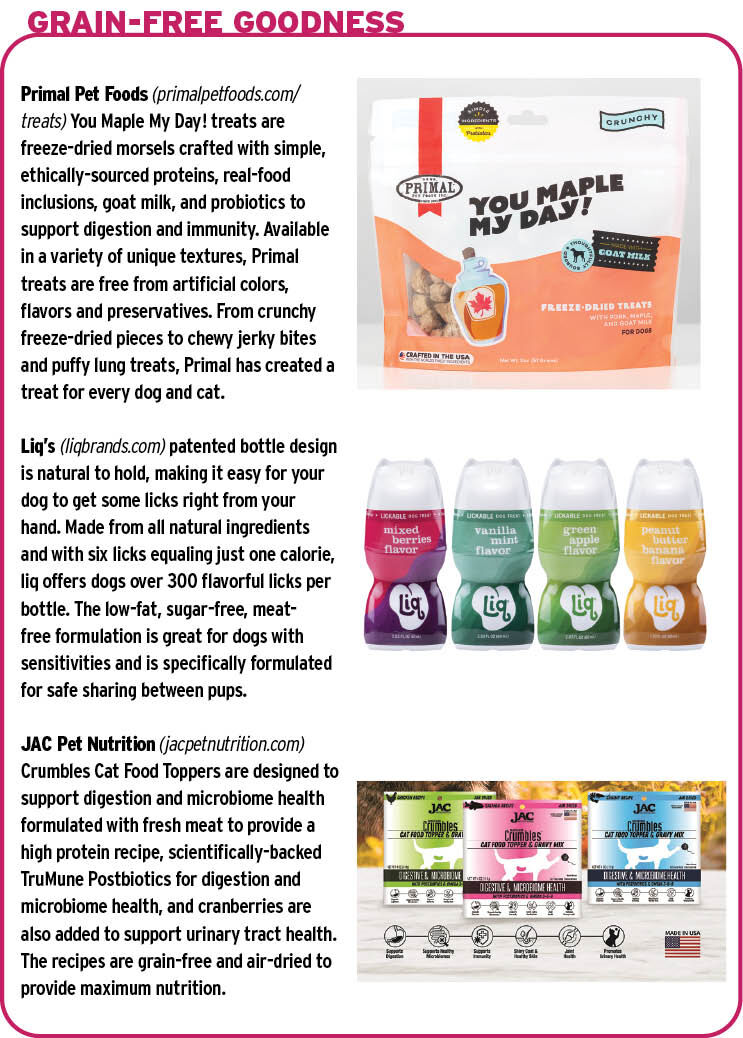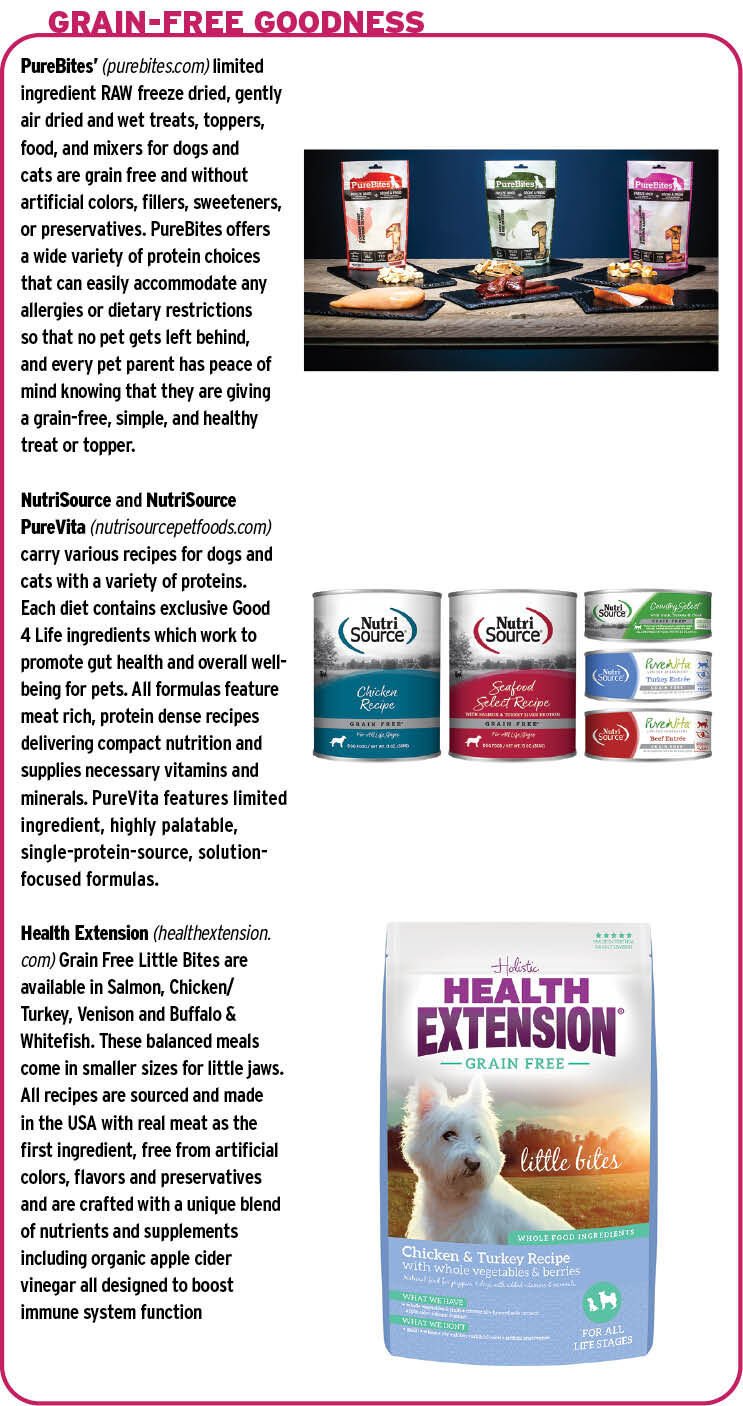 Current Trends

 
The humanization of pets is one trend that shows no sign of slowing down, and since grain-free products for humans have become increasingly popular, Alex Waite, co-founder of Shameless Pets, says it's not surprising that demand has increased in the pet space as well. 
"Grain-free can also indicate a more premium ingredient list, with alternative plant-based options," explains Waite. "Consumers continue to look for healthy and natural ingredients for their pets."
Acuff concurs with this sentiment, stating that the humanization of pets continues to drive demand across the industry for pet foods that mirror human nutrition trends. 
"People are continuing to avoid grains in their own diets for many reasons, namely concerns with gluten and proponents of a Paleo-influenced diet," she says. 
As long as these human food trends continue, the grain-free pet food category will continue growing alongside them."
When it comes to specific products that seem to be driving sales in this space, Waite points to freeze-dried and air-dried pet food and treats. 
"With limited ingredients and a focus on superfood nutrients, consumers know they are feeding their pets the protein, healthy fats, and nutrients their pets need," he adds. 
Holly Sher, president and owner of Evanger's Dog and Cat Food Company and Against the Grain Pet Foods, says grain-free canned foods continue to be the company's most popular products Some of the driving factors include longer shelf life, recyclability and convenience. 
Sher says Evanger's Against the Grain-Nothing Else Collection is growing in popularity as pet parents become more aware of its benefits. I'm Single!! Against the Grain offers one ingredient only as well as a unique loaf-in-gravy texture. It contains no grain, gluten, gums, corn, wheat or soy, and is available in six choices: pork, turkey,  chicken, beef, salmon or duck.
Eric Abbey, president and co-founder of Loving Pets, adds that in addition to grain-free alternatives, pet parents are seeking USA made treats that contain carefully-selected ingredients that they recognize on an easy to understand ingredient panel, as well as a healthy, tasty treat or chew. 
Wooner finds that grain free products for small breeds and foods containing fish are driving sales. 
"Increased education and awareness of the benefits is what continues to drive growth of these products," he explains. "Grain-free and low carbohydrate recipes are best suited for the feline species that are considered true carnivores. Fish are a popular and nutritious protein with pet parents."
Extensive Education

 
Especially when it comes to categories like nutrition that directly impact a pet's health and wellbeing, research and education must be approached with maximum effort and attention. Sufficient knowledge about the contents, sources and manufacturing of grain-free products are necessary not only for sales teams to internalize, but also to be able to communicate to colleagues and customers. 
"While pet owners are familiar with some of the benefits of grain-free foods, it is our responsibility as a manufacturer and the pet specialty retailer's role as the consumer-facing expert to help encourage a discussion of what grains have been replaced with, and whether the best interest of the pet is being served," offers Acuff.
 She recommends pet specialty retailers employ a consultative approach – asking customers first to identify both the solution they are seeking as well as gain an understanding of what is going on with the pet's home environment. This way, retailers can direct the consumer towards a long-lasting solution, creating a loyal shopper. 
Abbey adds that in addition to educating retailers, Loving Pets also helps to build awareness through a variety of selling tools including special displays like clip-strips or floor displays, as well as sampling programs.
Wooner circles back to the issue of misinformation, as the grain-free market is certainly not exempt from this threat. 
"Educating your sales staff can help direct a consumer to the best products for their pet's unique need," he says. "Staff can gather information from pet food companies directly and also independent peer review published journals.
"There are so many foods on the market today, all promoting their own foods as the pinnacle. That makes it difficult for consumers to decide what is truly the best for their pets. Education about the nutritional needs of both dogs and cats, as well as the features and benefits of the products in stores is imperative to helping pet parents make the best choices for their pets."
Sher points to another common misconception that the sole focus of a food or treat should be the fact that it is grain-free. Instead, she says the main focus should be on the fresh, nutritious, additive- and preservative-free, quality made in the USA ingredients. 
Abbey suggests that affordability does not directly correlate to quality and that grain-free, wholesome treats and foods don't have to be cost prohibitive. 
"It is so important that retailers carry high quality treats and chews that offer value, and good margins," he emphasizes. 
Acuff highlights three key points that companies and retailers alike should understand: that all grain-free foods are not created equally, not all brands produce exclusively grain-free products, and that grain-free is an umbrella category made up of a broad range of products, which can vary significantly in terms of ingredient and nutrient composition.
According to Waite, Shameless Pets clearly calls out the health benefits delivered by the superfood ingredients in its treats, so consumers feel confident that treats can be tasty and fun, while also contributing to their pets' overall well being. 
Marketing & Merchandising

 
Transparency, communication and education are vital to running a trustworthy business. More specifically, they are key to an effective marketing strategy. Carrying and creating quality grain-free items is the first step, but the benefits of these products need to be expressed to pet parents in order for them to sell. 
"Our unique positioning and marketing activation strategy makes us one of the few brands that have the ability to drive customer traffic into our independent retailers' doors, authentically," says Acuff. "We deploy localized, integrated marketing tactics that support retailers that embrace our partnership together and in doing so, see measurable traffic, trial, conversion, and loyalty results." 
Acuff adds that Nulo's nutritional philosophy has a critical role in allowing the company to balance the nutritional needs of pets with the functional solutions pet owners are seeking. Formulas are designed with a high proportion of protein from animal sources, low in carbohydrates and contain low-glycemic carb sources. They are also enhanced with functional ingredients that support gut, immune, and skin and coat health. 
Understanding that some consumers are making purchase decisions based on grain-free, Waite says this should be communicated clearly and easily on any packaging or in-store retail displays. He also suggests considering a grain-free filter on E-commerce sites in order to make digital shopping easier. 
"Highlighting premium brands who are taking ingredient quality seriously will appeal to your highest value customers," he says.
Abbey finds that retailers should offer treats that their customers can easily relate to, and understand the ingredients and benefits by way of eye-catching packaging to clearly call out what is included and is not included. For example, he says Loving Pets uses easy to understand icons such as Grain Free, Gluten Free, etc. so pet parents can easily identify the benefits or confirmation of the absence of allergens they may be looking to avoid.
While it may seem like a given, Wooner reminds retailers that a clean and well merchandised store is always important, as "Nobody wants a scavenger hunt when buying pet food."  PB