When walking across the University of Georgia campus, it isn't uncommon to see puppies wearing yellow vests trotting on sidewalks, riding buses, and napping in lectures.
In most cases, petting or playing with these dogs is, unfortunately, not allowed. This is because they are in training to become service animals to help people who are blind or visually impaired.
Through the Guide Dog Foundation, UGA students can experience raising and training a puppy to become a service animal. For seven students and six puppies, the opportunity has changed their life.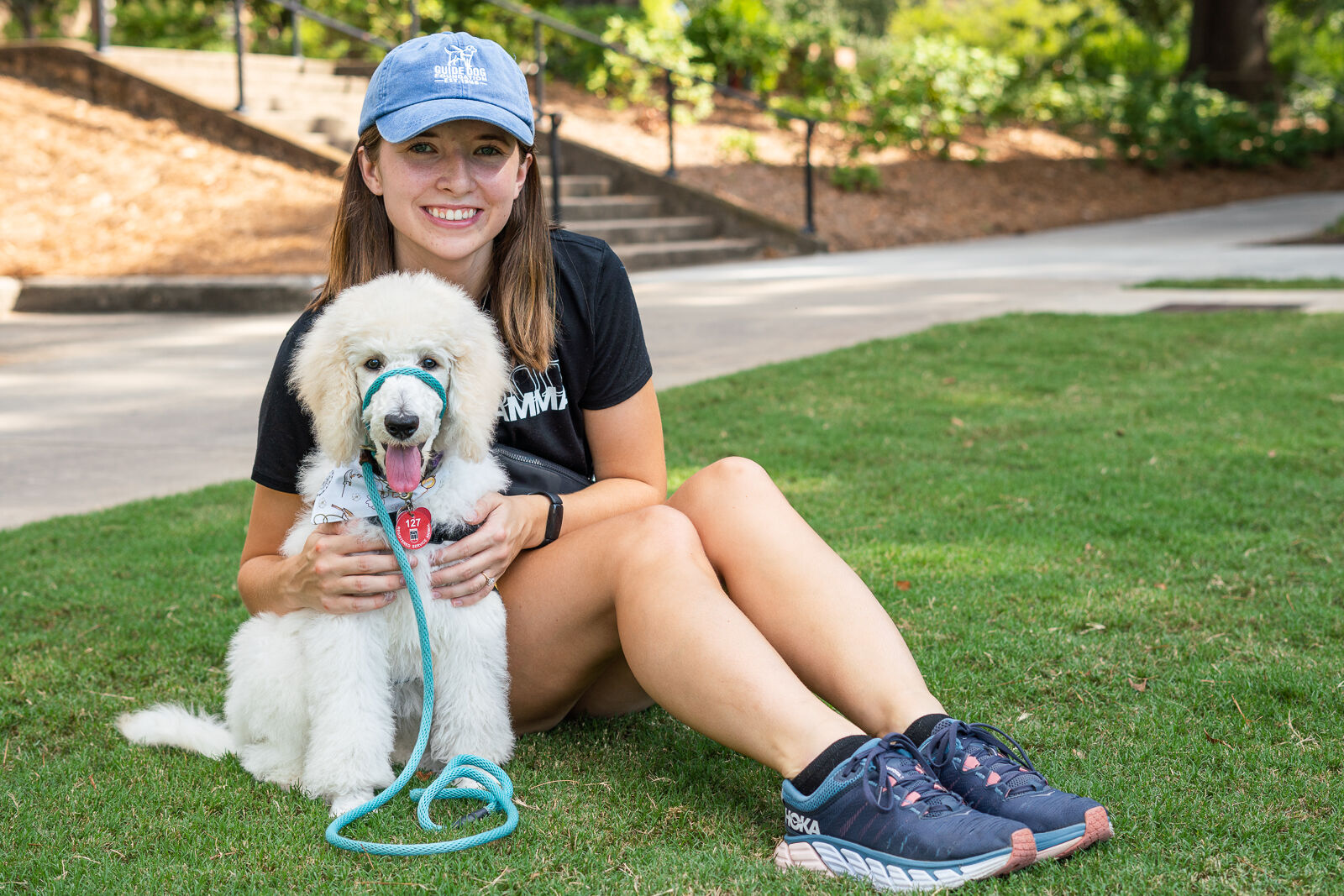 Holly Roscoe
Raising and training a guide dog is no easy job. Holly Roscoe, a senior applied biotechnology major, is currently raising a standard poodle named Viper.
Roscoe said that Viper is very playful and curious. "She is super intelligent and loves to meet new people. Once she's met someone once, they are a forever friend," Roscoe said.
Training a guide dog puppy can be tiring due to their constant energy and energetic personalities. Roscoe shares that her favorite way to get Viper's energy out is by doing training sessions and practicing her commands.
"It's our job to just teach them basic obedience and house manners and get them acclimated to being with you everywhere and especially in new environments," Roscoe said.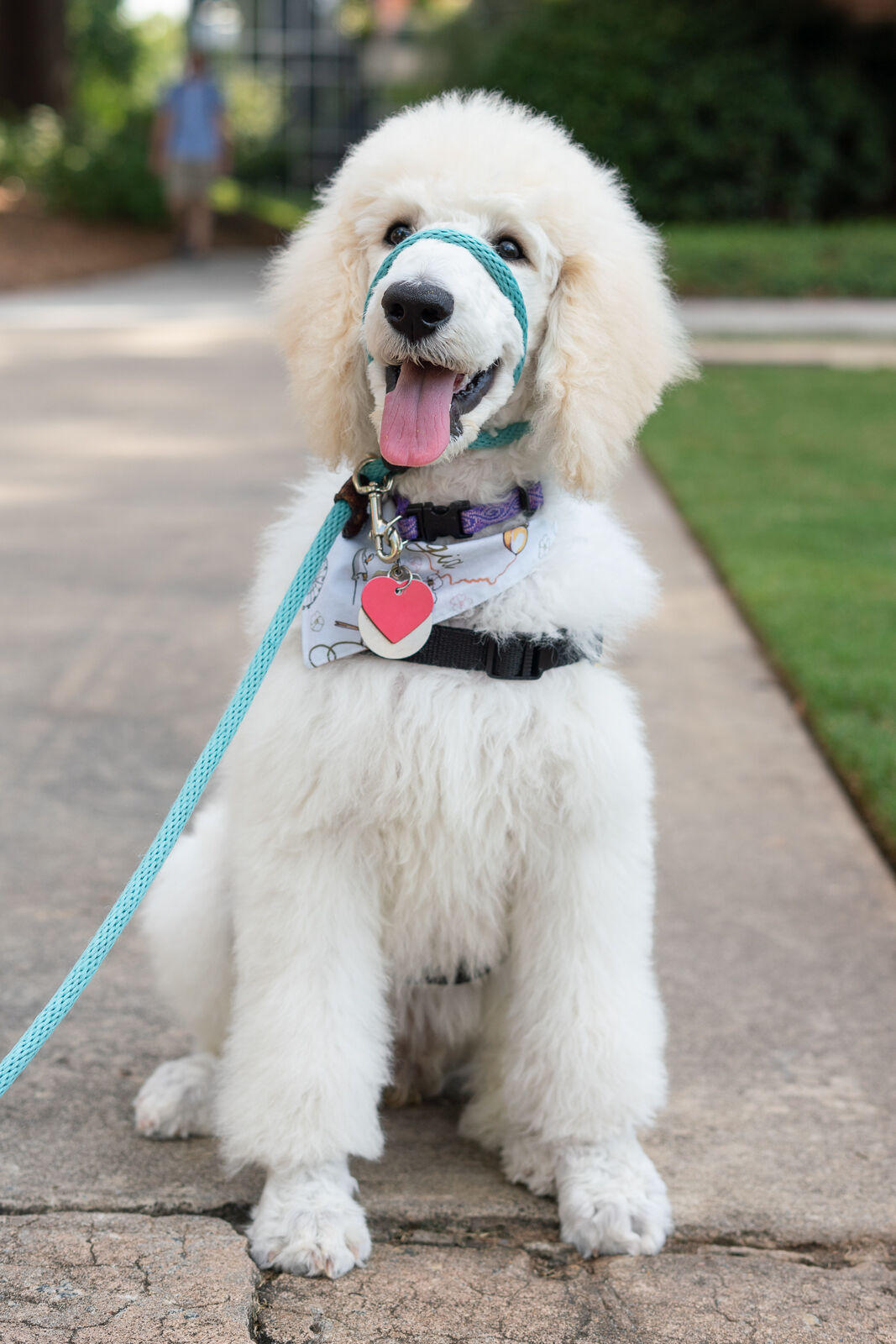 Viper is Roscoe's third guide dog she has raised. Her time raising dogs has led to some surprising emotions.
"The thing that I didn't expect was feeling at peace. When I would hear things about my first dog Giselle and how she was thriving with her new handler, that really brought me peace," Roscoe said. "It's always really hard to let go once your dog graduates, but I think since the community surrounding this organization is so involved, it's easy to keep up with your dog on social media and see how they're doing with their new handler."
According to Roscoe, raising a guide dog is also a great way to make friends.
"I get stopped like every five feet when I'm with my dog," Roscoe said. "It's great when people start asking questions because that's probably a really good conversation starter. So if you're a shy person, it kind of helps break the ice with people."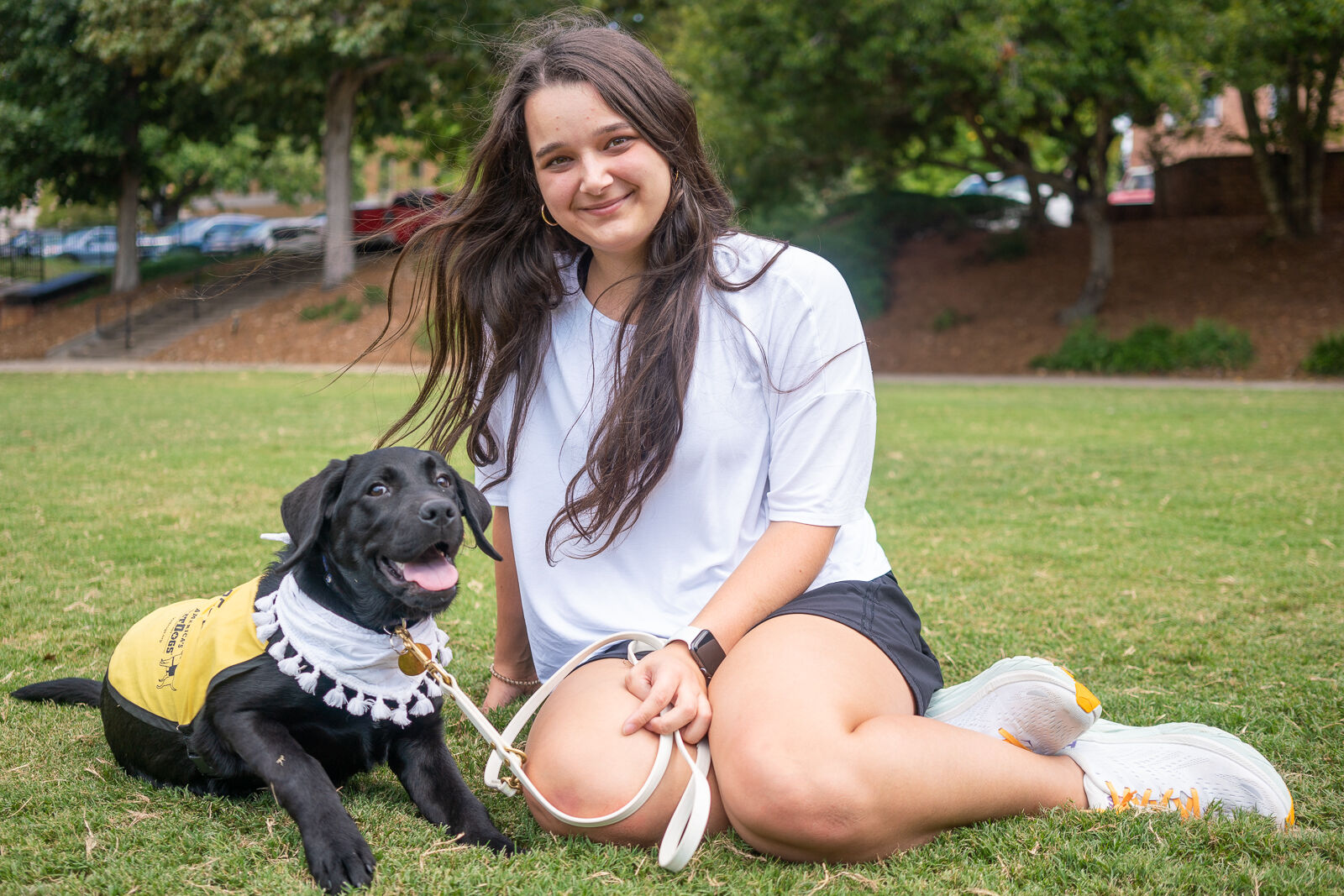 Sierra Lindsey
Sierra Lindsey is a senior psychology and sociology major and is the raiser of a black Labrador puppy named Ruby.
"Ruby is a perfect mixture of the other two dogs I raised. My first dog Janis was very laid back and eager to please. My second dog Rudy O was pure joy and was always full of energy. Now, I have noticed that Ruby is a combination of both dogs. She is a quick learner and is always ready to give and receive love at all times," Lindsey said.
Lindsey described what she wanted to get out of being a puppy raiser, and how she was impacted by the experience.
When Lindsey became a puppy raiser, her goal was to help change someone's life for the better. What she wasn't expecting was how much raising guide dogs would change her life.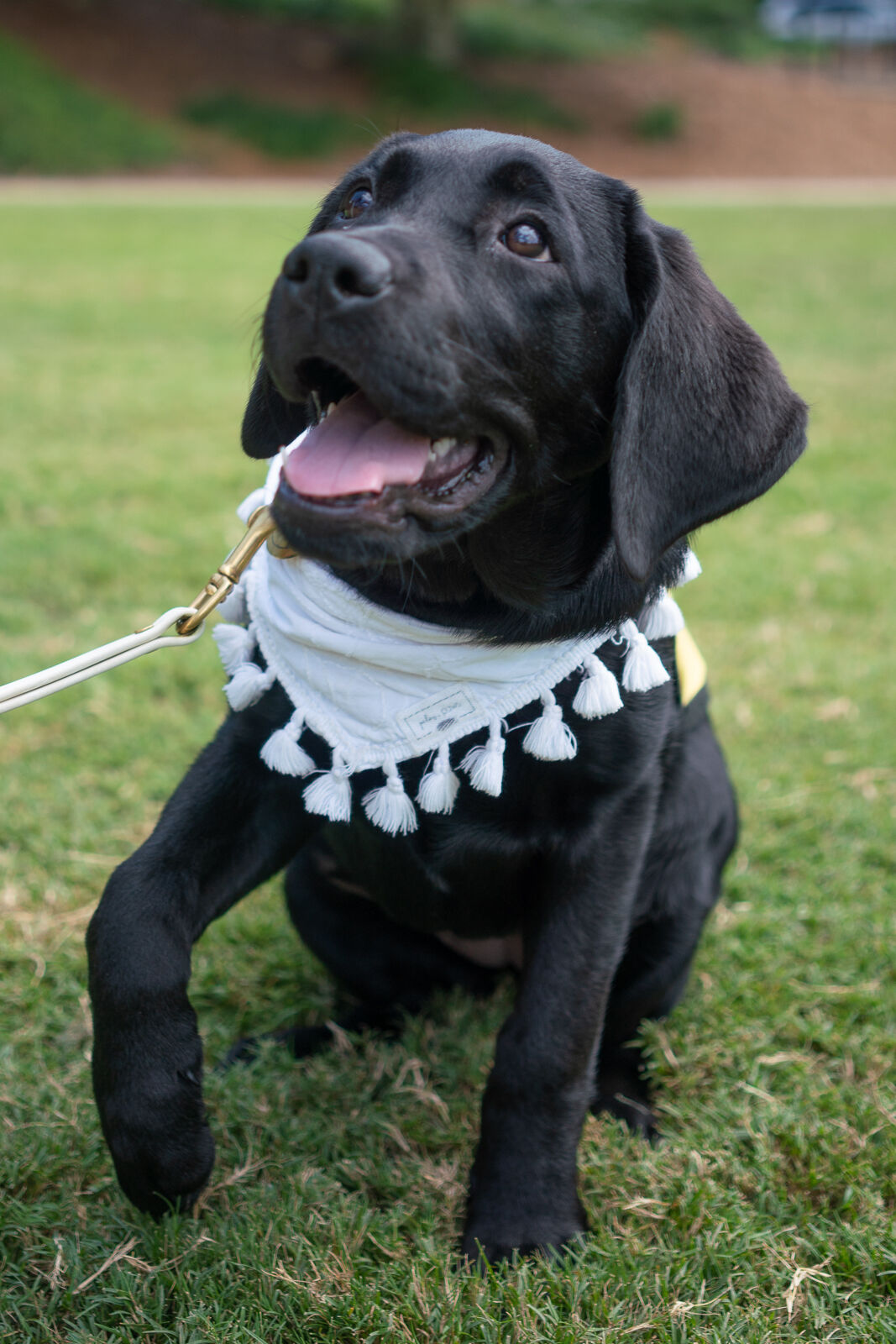 "My first dog Janis is my heart dog and this program brought me her," Lindsey said. This program has truly changed my life, not just by Janis, but with the volunteers, leadership and my fellow raisers."
Some of the guide dogs on campus aren't trained specifically to be service dogs, according to Lindsey. Some are training with America's VetDogs, the Guide Dog Foundation's sister organization.
"The dogs training to be vet dogs are very task trained. They learn things like how to open doors and how to interrupt nightmares," Lindsey said. "Since AVD has not been in Athens as long as the GDF, we only allow past guide dog raisers to raise puppies to become vet dogs."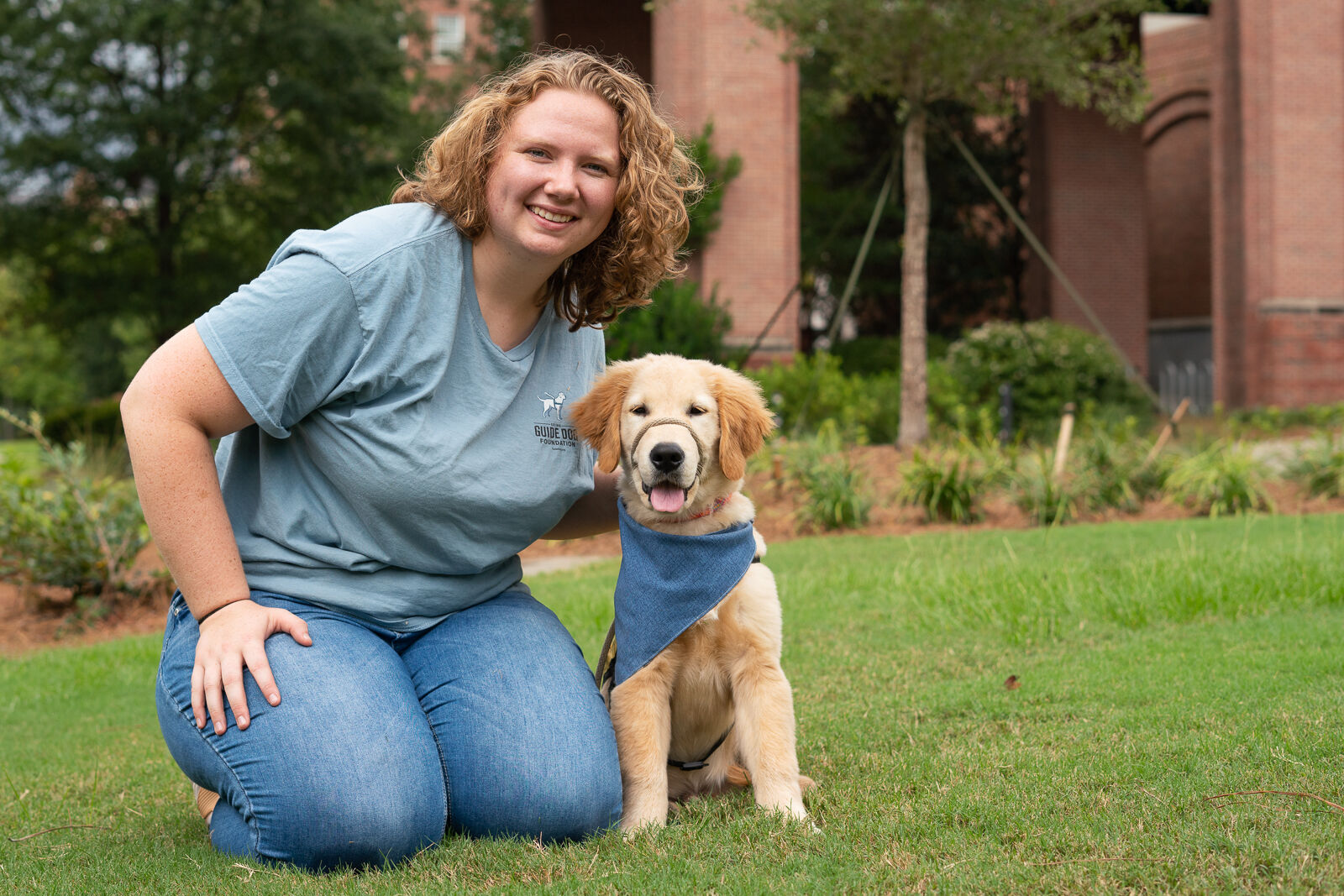 Sophie Page
Sophie Page is a junior biological science and animal science double major raising a golden retriever puppy named John.
"Honestly I got so lucky when it comes to John. He is one of the smartest dogs that I have ever worked with and he caught on to things very quickly. He clearly just wants to please whoever is handling him," Page said.
According to Page, John is a very laid-back dog. He loves being around people. "His tail goes a million miles a minute whenever someone comes up to pet him," Page said.
"What surprised me about John was how calm he is. No matter what situation he is in, he always stays this cool, collected and sweet boy. He is also a big watcher. He loves to just lay down and watch the world go by, which was surprising," Page said.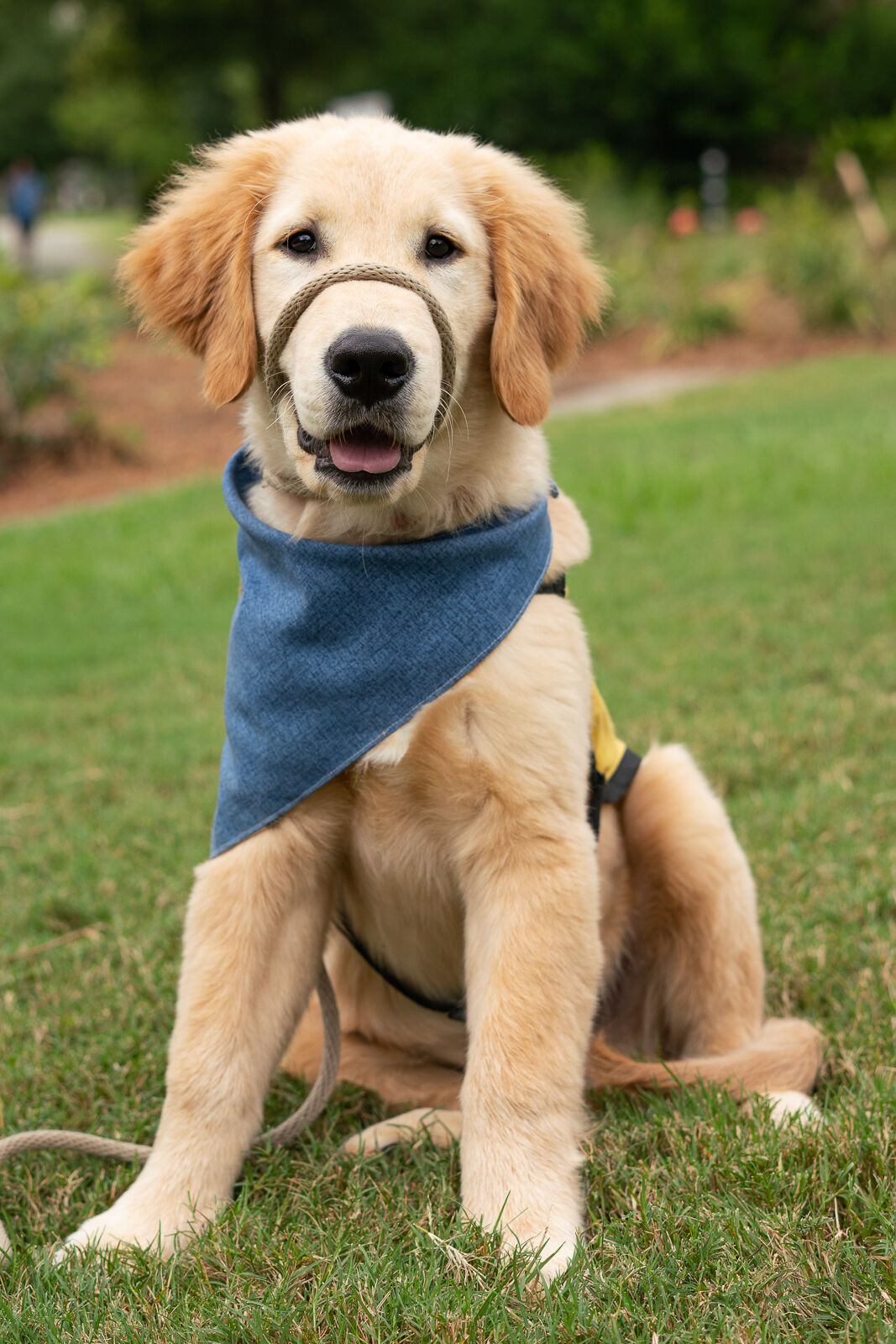 According to Page, sometimes dogs won't graduate from the program. A lot of retirees step down due to age, but sometimes the dogs have characteristics that make them unsuitable to be service animals, like becoming uninterested in working, developing certain fears, or having medical issues.
But where do retired dogs go after working?
"Once a dog retires, the person who was its handler gets first dibs if they want to adopt them. If not then it goes to its raisers. Then if neither of those parties is able to adopt them, then they'll go into the Guide Dog Foundation's adoption process," Page said. "These dogs will never ever be put in a shelter. The good thing about the Guide Dog Foundation is if at any point you are starting to feel like this is too much they will take the dog back."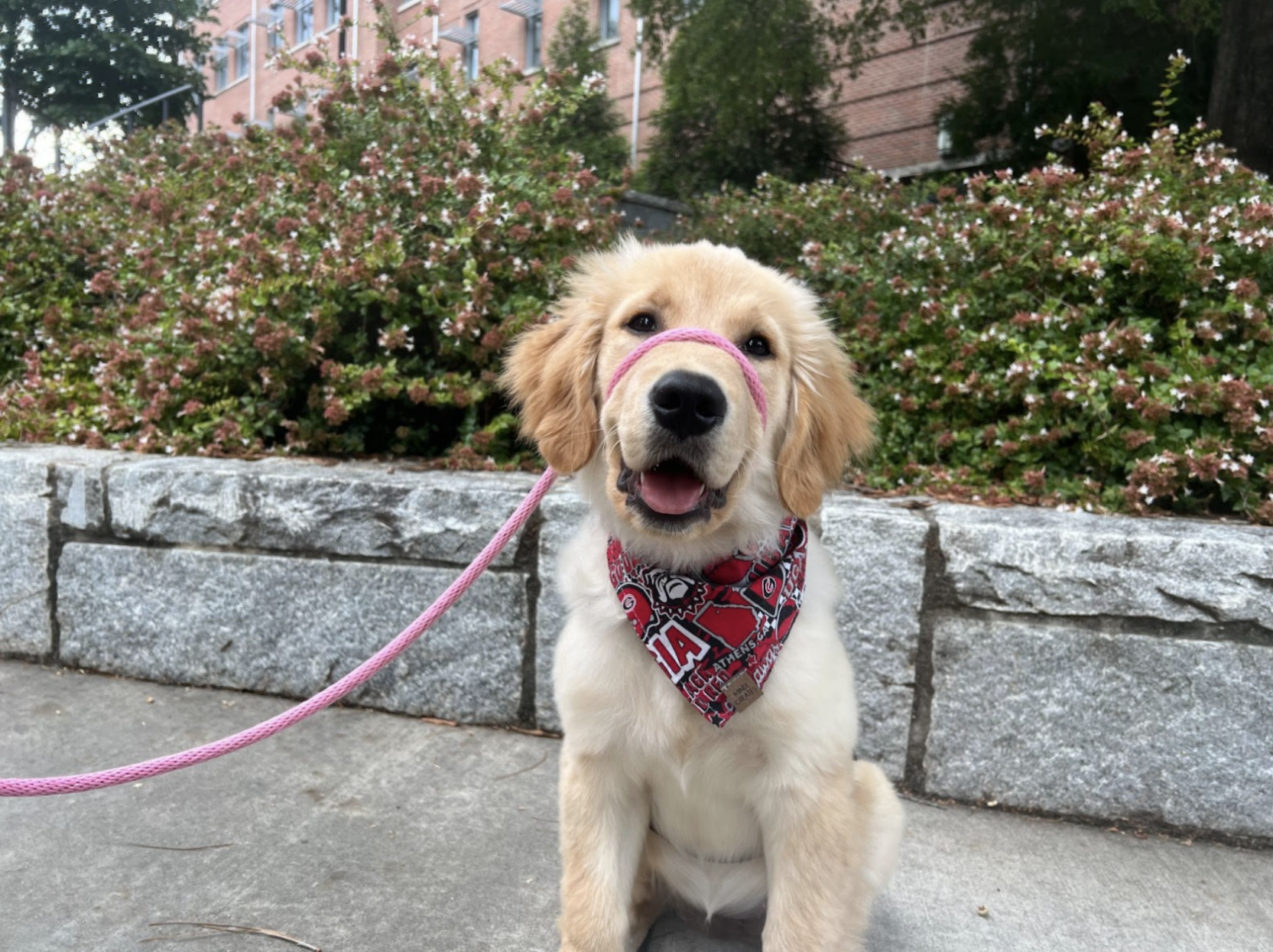 Madison and Camille Jennings
Sisters Madison and Camille Jennings are juniors at UGA. Madison is majoring in animal health and Camille is a technology major with an emphasis in business. They are the co-raisers of the Athens-sponsored dog, Peaches, a 4-month-old golden retriever. The sisters got involved in GDF in 2020.
"Being on the pre-vet track, I obviously really love animals and I was missing some fuzzy love. …Camille ended up applying together because we share the same room so it just made sense for us to raise a dog together," Madison Jennings said.
Madison Jennings said that when the puppy is still young, it's harder to see what their personality will be like.
"They're still observing their surroundings and learning how to trust you. Right now, I think Peaches is more reserved and shy, but that can change as she becomes more confident and comfortable with her surroundings," Madison Jennings said.
Madison Jennings shares Peaches's favorite toy and how excited she gets when she plays with it.
"She absolutely loves balls. She will wiggle her body and hold a ball in your lap when she wants you to play with her," Madison Jennings said.
Prior to meeting Peaches, the Jennings sisters raised Marble, a yellow lab. Marble left in June to become a breeder for GDF.
"I would say most people that are raisers want their dog to succeed and to do well, but of course, they love that dog, I mean [Marble] was perfect. …I was happy and sad to let Marble go. You're literally handing off a perfect dog. In the end, you're helping the people who need them more than you do," Madison Jennings said.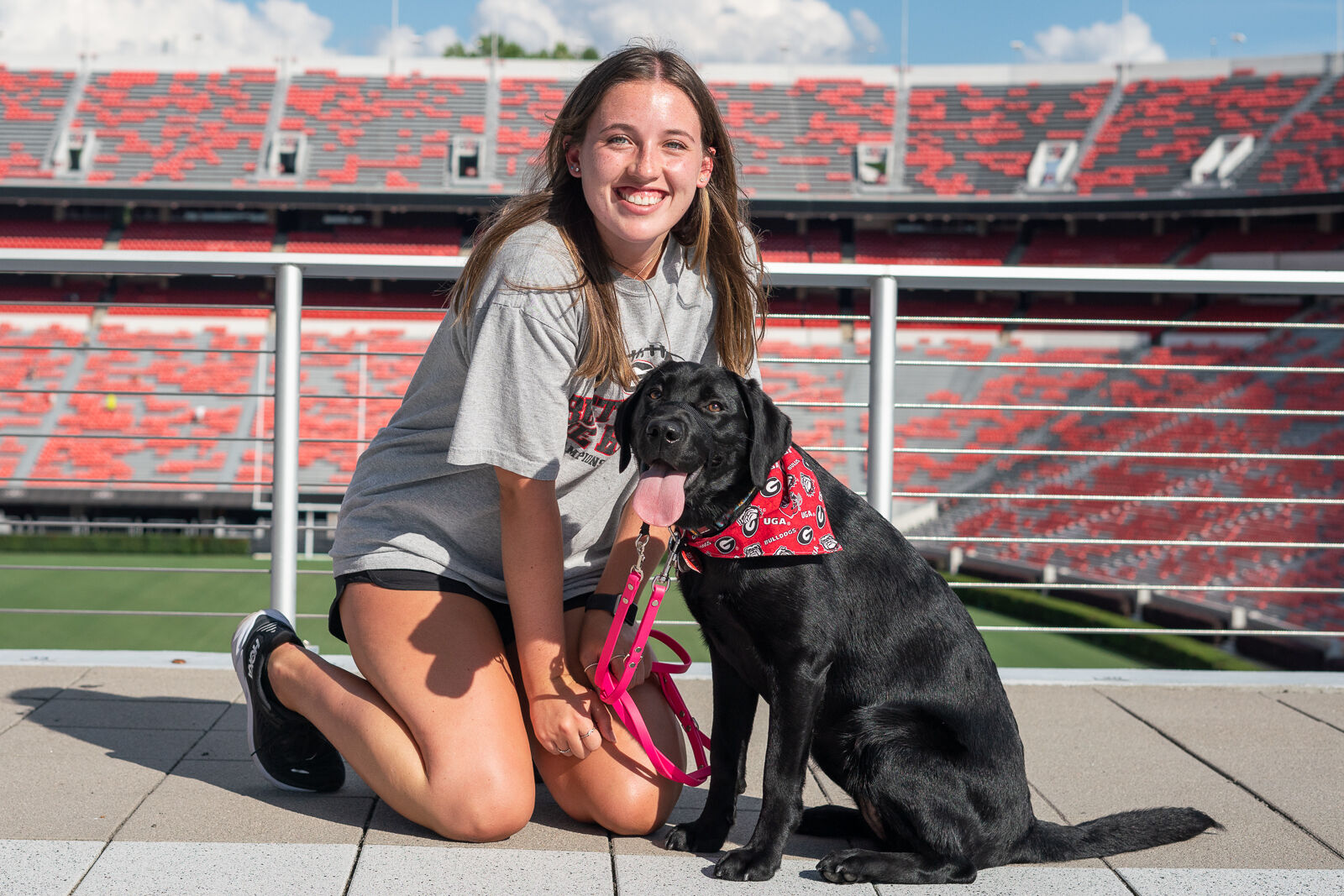 Avery Foster
Avery Foster, a junior philosophy major, has been raising Trinity, a black labrador puppy, for about 6 months. Foster has been involved with the GDF since the fall of 2021, but she became a raiser when she gotTrinity.
Foster was surprised about the way her life has changed since raising a dog, but it has been a rewarding experience.
"Honestly, it felt like I was having a kid," Foster said. "We have to carry them around everywhere at first because they are not fully vaccinated, but we still want them to get used to being around people."
When asked about Trinity's personality and interests, Foster had a lot to share.
"Trinity has a super silly personality. She lays upside down and smiles at all of my professors during class and she is super playful," Foster said. "Also, her favorite toy is her wishbone. She has had it since she was a baby, but she refuses to play with anything else and takes it to bed with her every night."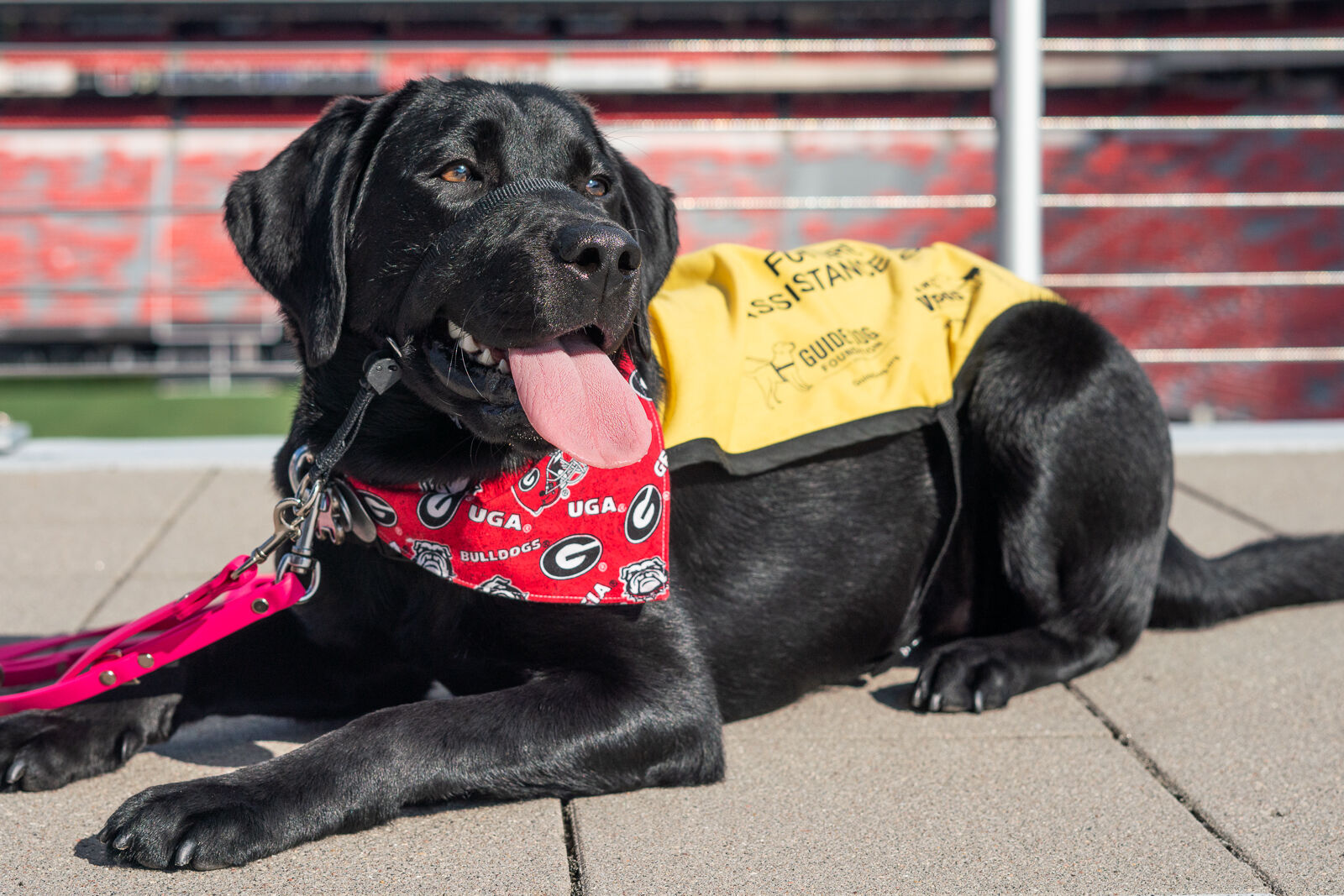 Foster said that she is lucky because Trinity has been very receptive to her training. "We've had our rough patches, but her calm demeanor makes her the perfect dog," Foster said. "I sometimes feel like she is the one training me."
"It has been the coolest experience watching her grow up and become such a well-behaved puppy. She went from not even knowing how to sit, to executing her commands with ease, and I couldn't be more proud of her," Foster said. "I can't wait to watch her change someone's life one day."
Foster advised people that want to join the GDF but are too nervous to start to just jump in.
"I would honestly just say to try not to stress about it because you will learn along the way, and there is no way anyone can know all of the answers before they get their dog. You eventually learn by having the dog and getting experience with them," Foster said.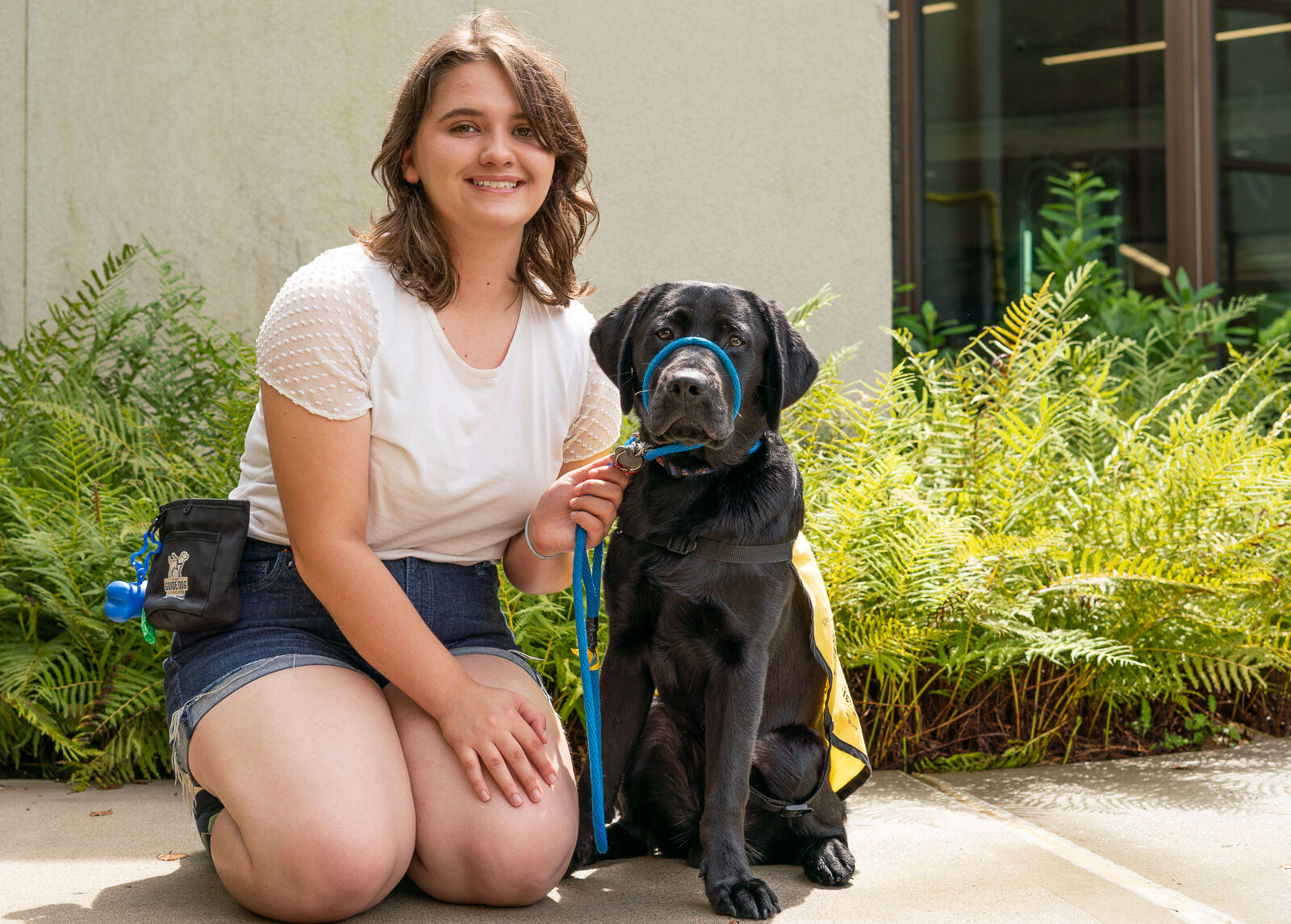 Maddie Sullivan
Maddie Sullivan, a junior animal science and biological science double major is currently raising a seven-month-old black Labrador puppy named Sam.
Sullivan shared that when she first got involved in the GDF, she had no prior experience raising a dog. Because of the foundation's training, she was able to learn everything she needed to know.
"[Raising a guide dog is] definitely hard at times because you have to be committed 24/7. Even when you're playing with the dog, you're teaching the correct ways to play. So it is a big commitment, but it's worth it," Sullivan said.
"Training is hard because you get a puppy that really knows nothing, and it's our job to teach them everything they need to know. It's a lot of work, but it's worth it once you see that lightbulb moment they get when they finally understand a certain skill," Sullivan said.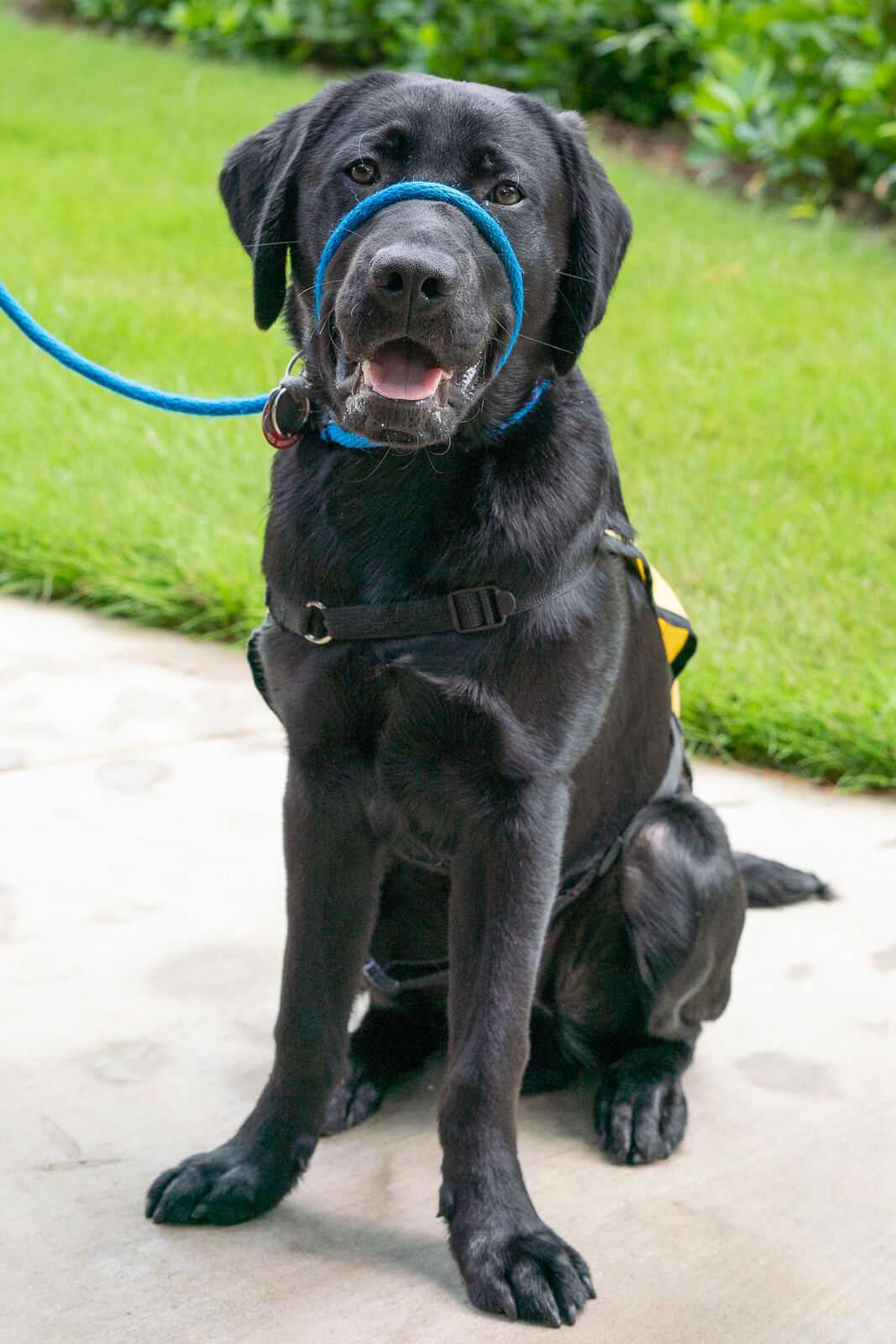 Sam surprises Sullivan every day with his intelligence. "You don't realize how smart they are until you're training them and you see everything they can do," Sullivan said.
Sullivan shared how camping helps her get experience before raising her own dog.
"Camping helped me find a lot of different ways of working with dogs. One method may not work with Sam, but it could work with another dog," Sullivan said.
However, there are some areas for improvement in dog raising. Although the handlers that receive the dogs are people of all genders, sexuality, race, and religion, the raisers do not always reflect that diversity. . Sullivan believes that despite the national issues with diversity, UGA GDF does a good job of producing a diverse group of puppy raisers.
Beyond any issues or hardships that may come along with raising a guide dog, Sullivan thinks that it offers an undeniably valuable experience nonetheless.
"I've realized that the relationship and bond you have with a working dog is different from a pet at home. It's been incredibly rewarding for me to be able to have that special relationship with Sam," Sullivan said.