'Before getting this new location we were limited by the spaces that we could find and the times that we could get. We're already offering quite a few more classes than we ever have before.'
Article content
Businesses and non-profit organizations regularly open and move in Saskatoon. Today the StarPhoenix talks to Dee Culbert, current president and Liz Philips, past president, of the Hub City Kennel & Obedience Club.
Article content
The non-profit club has been in operation for at least 70 years, but nobody who is in the club now knows exactly how long. The current members of the non-profit were pleased to move into a permanent location in Kelsey Woodlawn in October, which allows them to finally be able to offer training classes and services from one central place.
Article content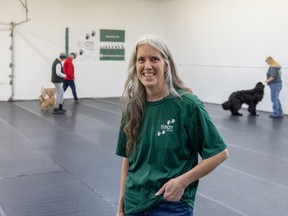 Q: How long has Hub City Kennel & Obedience Club been operating?
Liz Philips: We're not entirely sure. We have a trophy dated 1951, but we're pretty sure there was a kennel club earlier than that, too. We can't be absolutely sure because we don't have a trail.
Q: What is the purpose of Hub City Kennel & Obedience Club?
LP: For like-minded dog people, who are really involved in dog sports or raising purebred dogs, to get together. We put on a dog show every year in May, which is a kind of a beauty contest for dogs.
Article content
Q: How do you feel about your new location?
LP: Our club is very excited about it because it's the first time we've been able to earn enough money with our classes to support a building, and thus increase the number of classes that we can offer. We also have a place for club members to train their dogs. It's a really great thing with the winter coming up to have a large indoor space where people can work on things that they're doing with their dogs, like obedience and scent work.
Q: What was the reason for moving to a new location?
Dee Culbert: Basically, we're in a good enough position that it just seemed to make sense to be able to have our own place — to offer more classes year round. Normally we would shut down in the summertime just because it was difficult to find places to rent here and there. We would plan for some special event only to find out we couldn't do that because the place was rented to someone else. In our own place, we can offer more.
Article content
LP: Before getting this new location we were limited by the spaces that we could find, and the times that we could get. We're already offering quite a few more classes than we ever have before. And it's a great place to socialize.
Q: What kinds of classes do you offer?
DC: We like to start dogs out at beginner. That's basically just a manners type class. So any pet dog can come in and the owners can have a dog that's nice to live with and has manners when you go for walks and stuff like that. That's the starting point, to teach them self-control.
Then they can branch off into different sports that they're interested in. We can go into obedience, which is a little more strict with the nice heeling at the side when you stop without having to be told. It's leading toward going into trials and getting titles for your dogs.
Article content
Then the scent detection is a little more fun, but you can also get titles on it and it works the dog's brain more than the other classes. We're looking at adding a few more classes. I really want to do a tricks class because it's just so fun to teach dogs all kinds of tricks. It builds really good working relationships with your dog when you teach the tricks.
LP: There is also rally obedience, which is a kind of obedience where the dog and person follow a course with a series of signs on it and you have to do what's on the sign with your dog — you know, make it sit and then lie down or back it up or various things. It's kind of like being a big Snakes and Ladders board. And that is also a competition where you can get a title so your dog has letters after its name. Some of the dogs in the club have more letters after their name than any person.
Article content
We're hoping to offer a small dog obedience class in 2023, where all the dogs will be under 25 lbs or so in the class. It could be a little more relaxing for the dogs. There are dogs that might be intimidated by bigger dogs.
Q: What sets you apart from other dog clubs? 
DC: I think because we are a non-profit and our mandate is to educate the public to have well-rounded dogs that everybody likes to be around. We can keep our classes a little cheaper than a lot of the other ones. All of our trainers are totally volunteer, nobody's paid. We've also got a ton of experience in the club — years and years of people doing all kinds of stuff with dogs,
Q: What happens during your annual dog show in May?
LP: We have obedience trials during the show so people can compete with their dogs. The dogs have trained at various levels to do things like search for a dumbbell with the owner's scent on it or bring it back and fetch a dumbbell over jumps or do more basic things like heel and stay for a regulated length of time across the ring from the owner. So, it's a test of training.
Article content
But we also want to educate dog owners about training, how best to train dogs so they are good pets so that you can call them and they'll come back, and how to take care of them as well as possible.
Q: Are there some other services you provide?
LP: Sometimes we will organize a little display that we'll take into say a seniors home, so that people who might have had dogs in the past or would enjoy interacting with dogs, can see dogs doing tricks and pet them. Early in the pandemic we went to a larger seniors home and we put on a little show for the people with the dogs doing tricks. We had rings set up on the lawn where people could watch from their balcony. One of our members takes her dog to vaccine clinics so people feeling stressed out about getting needles can interact with the dog and relax a little bit.
Article content
This interview has been edited and condensed
Hub City Kennel & Obedience Club
Board of Directors: Dee Culbert (president), Michelle Whitehead (vice president), Jeannette Hargreaves (treasurer), Lori Mcgeary (secretary)
Address: 2017 Alberta Avenue
Email: [email protected]
Website: hckoc.com
Facebook: facebook.com/profile.php?id=100071379230567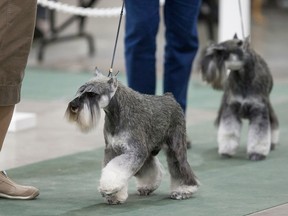 Have you recently started or moved a new business or non-profit organization in Saskatoon? We want to hear your story. Please email [email protected]
Canadian restaurant chain Guac Mexi Grill opens first Saskatoon location

International brand Regus occupies fourth floor in Scotiabank Building with coworking space

'A step above a dive bar:' The Haines Mile Pub in Rosewood serves classic menu with charming twist
The news seems to be flying at us faster all the time. From COVID-19 updates to politics and crime and everything in between, it can be hard to keep up. With that in mind, the Saskatoon StarPhoenix has created an Afternoon Headlines newsletter that can be delivered daily to your inbox to help make sure you are up to date with the most vital news of the day. Click here to subscribe.